BYK: Internal kick-off sales conference gives impetus for 2014
"The year 2014 really got going for me with this truly unique event in Germany – entertaining, informative and, above all, interactive. There was next to no classic classroom-style teaching format whatsoever," enthused Bruce Seeber, Head of Key Account Management, BYK USA.
The expanded global BYK Additives & Instruments Sales & Technical Service Team met for the first time since the acquisition of the Rockwood rheology business line at a two-day sales conference in Wesel and Duisburg in order to get themselves up to speed on the latest additive applications and market drivers, and to draw improvement potential from that for customers' projects at the local level.
More than 300 participants from around 30 countries also gained in-depth information on products and services for both the established and the new business segments that have emerged out of the acquisition and consolidation of the traditional and the new BYK products and markets. This is, for the Sales Team, the very basis for competent, all-round customer consultation and support.
In addition, 16 theme islands focused on the mutual exchange of know-how and on interdisciplinary networking amongst participants. The innovative meeting format received an extremely positive echo.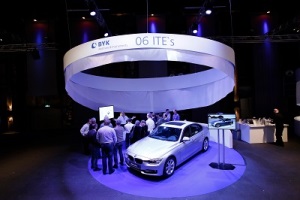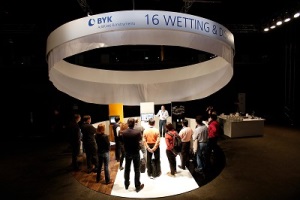 View of two theme booths at the 2014 BYK Sales Conference
"Our aim in opting for this innovative and interactive meeting format was to do justice to the significantly increased number of sales colleagues and the expanded portfolio, and I'm delighted at the excellent feedback coming from those who took part. We will now all bring the knowledge mediated and the impetus generated by this conference to bear in customer projects," commented Gerd Judith, Member of BYK Additives & Instruments Management board responsible for Marketing & Sales.